LGBTQIA2S Care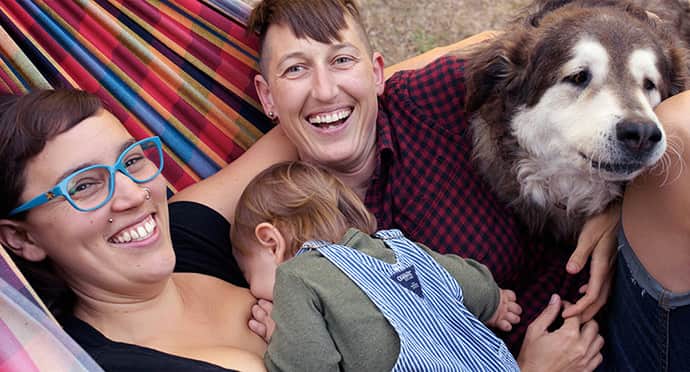 Did you know, there are 122 ways to become a parent! The midwifery model of practice in British Columbia supports the needs of all expectant families, no matter which route to parenthood they take. 
Midwives care for all families during the childbearing year, supporting them through pregnancy, birth and the first 6 to 8 weeks postpartum. This includes families created through pregnancy and birth, adoption, surrogacy, multi-partner relationships, choice, blending and circumstance. Midwives provide primary care while honouring the diversity of their clients and communities and providing respectful and affirming care.
Midwifery is founded on the principles of informed choice decision making, trust building through continuity of care, and choice of birth place. In practice, BC midwives are well suited to care for queer, transgender, and gender diverse clients, taking the time needed to get to know each family and their individual needs throughout their pregnancy and birth care.
MIDWIFERY CARE FOR LGBTQIA2S PERSONS
The midwifery model of practice in British Columbia supports the needs of expectant families in all contexts. With their extensive training, midwives provide a level of care that is safe, individualized and accessible.
Midwives share a common philosophy that all people have a right to accessible, comprehensive midwifery services. They provide care without discriminating on the basis of race, ethnicity, political or religious beliefs, marital status, age, gender identity, sexual orientation, physical or mental ability. Whether same-sex, straight, single or multi-partner families, midwives will provide a level of care that is safe, individualized, and accessible.  
INCLUSIVE CARE FOR PEOPLE ACROSS THE GENDER SPECTRUM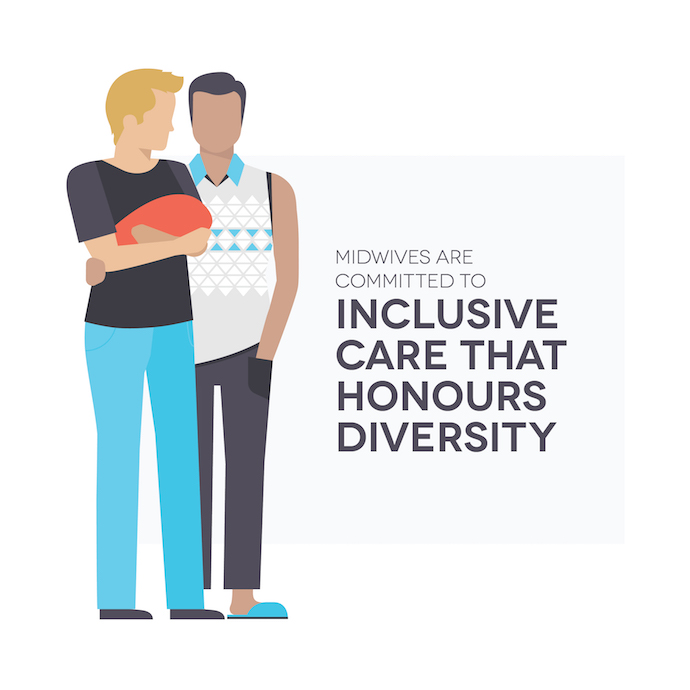 Midwives across Canada have made a strong commitment to inclusive care, adopting practices that are respectful and supportive of the sexual and gender identities of all people in their client's family network. Every person entering a midwifery clinic can expect to be respected and cared for, regardless of their sexuality or gender identity.
This commitment to inclusivity also extends to acknowledging the diverse identities of the midwives practicing in the community. BC midwives are striving to educate themselves in order to better serve and advocate for the transgender, gender queer, non-binary and intersex clients and families in their care.
Queer and transgender clients have specific needs when it comes to pregnancy care, birthing, and nursing or feeding their babies. These resources, blogs, articles and groups are a starting point in knowledge sharing, community building and client support – it will be updated periodically.
LGBTQIA2S PREGNANCY AND BIRTH RESOURCES
BC Council for Families, has LGBTQ parenting tip sheets and queer family resources
https://www.bccf.ca/topic/lgbtq-families/
Rainbow Families Meet Up
http://www.meetup.com/rainbowfamiliesvancouver/

The LGBTQ Parenting Network - Toronto based queer parenting resources
lgbtqpn.ca
Fertility/Family Planning:
Reproductive Options for Trans People
Reproductive Options for Trans Women
A collection of videos designed for fertility specialists
"Choosing Children" Legal Pamphlet by Barbara Findlay's law office
Care:
A listing of self identified care providers who want to provide care to trans folks http://www.transbirth.com/
A group of North American midwives working on inclusivity
http://www.birthforeverybody.org/what-we-do/
Films:
"A Womb of Their Own" by, Cyn Lubow
https://vimeo.com/153727082
"Transgender Parents" by, Remy Huberdeau
https://vimeo.com/104975128
Feeding options:
The Protocols for Induced Lactation: A Guide for Maximizing Breastmilk Production
http://www.asklenore.info/breastfeeding/induced_lactation/protocols4print.shtml
Trevor Macdonald's blog: breastfeeding and parenting from a transgender perspective
http://www.milkjunkies.net/
Trans Women and Breastfeeding: A Personal Interview
http://www.milkjunkies.net/2013/05/trans-women-and-breastfeeding-personal.html
Queer Parenting Blogs and Books:
Gays with Kids
https://gayswithkids.com/
Where's the Mother?: Stories from a Transgender Dad by Trevor Macdonald
https://www.amazon.ca/Wheres-Mother-Stories-Transgender-Dad-ebook/dp/B01DYR4SPI
Facebook Groups:
Queer and Trans Pregnancy and Parenting Group
https://www.facebook.com/qtppgroup/
Birthing and Breast or Chestfeeding Trans People and Allies
https://www.facebook.com/groups/449750635045499/
Research articles: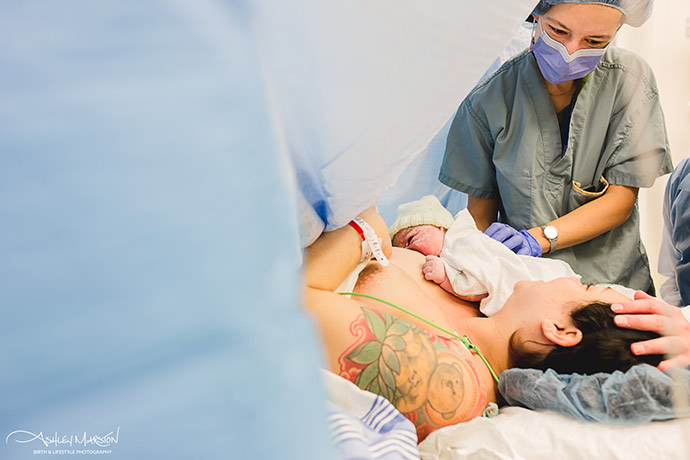 Transmasculine individuals' experiences with lactation, chestfeeding, and gender identity: a qualitative study
http://bmcpregnancychildbirth.biomedcentral.com/articles/10.1186/s12884-016-0907-y
The Association of Ontario Midwives. Tip sheet – providing care to trans men and all "transmasculine spectrum". Available here.
Ellis S, Wojnar D, Pettinato M. Conception, Pregnancy, and Birth Experiences of Male and Gender Variant Gestational Parents: It's How We Could Have a Family. Journal of Midwifery & Women's Health. Available here. 
Obedin-Maliver J, Makadon H. Transgender Men and Pregnancy. Obstetric Medicine. Available from: http://www.ncbi.nlm.nih.gov/pubmed/25415163
Wolfe-Roubatis E, Spatz D. Transgender Men and Lactation: What Nurses Need To Know. Available from: http://lgbtqpn.ca/wp-content/uploads/2015/02/Transgender-Men-and-Lactation-What-Nurses-Need-to-Know.pdf
Midwifery statements:
Canadian Midwifery Regulators Council – position statement on the use of gender inclusive language. Available here.
Canadian Association of Midwives – statement on gender inclusivity and human rights. Available here.
Midwives Association of BC – diversity, equity and inclusion statement. Available here.
Save
Save
Save
Save
Save