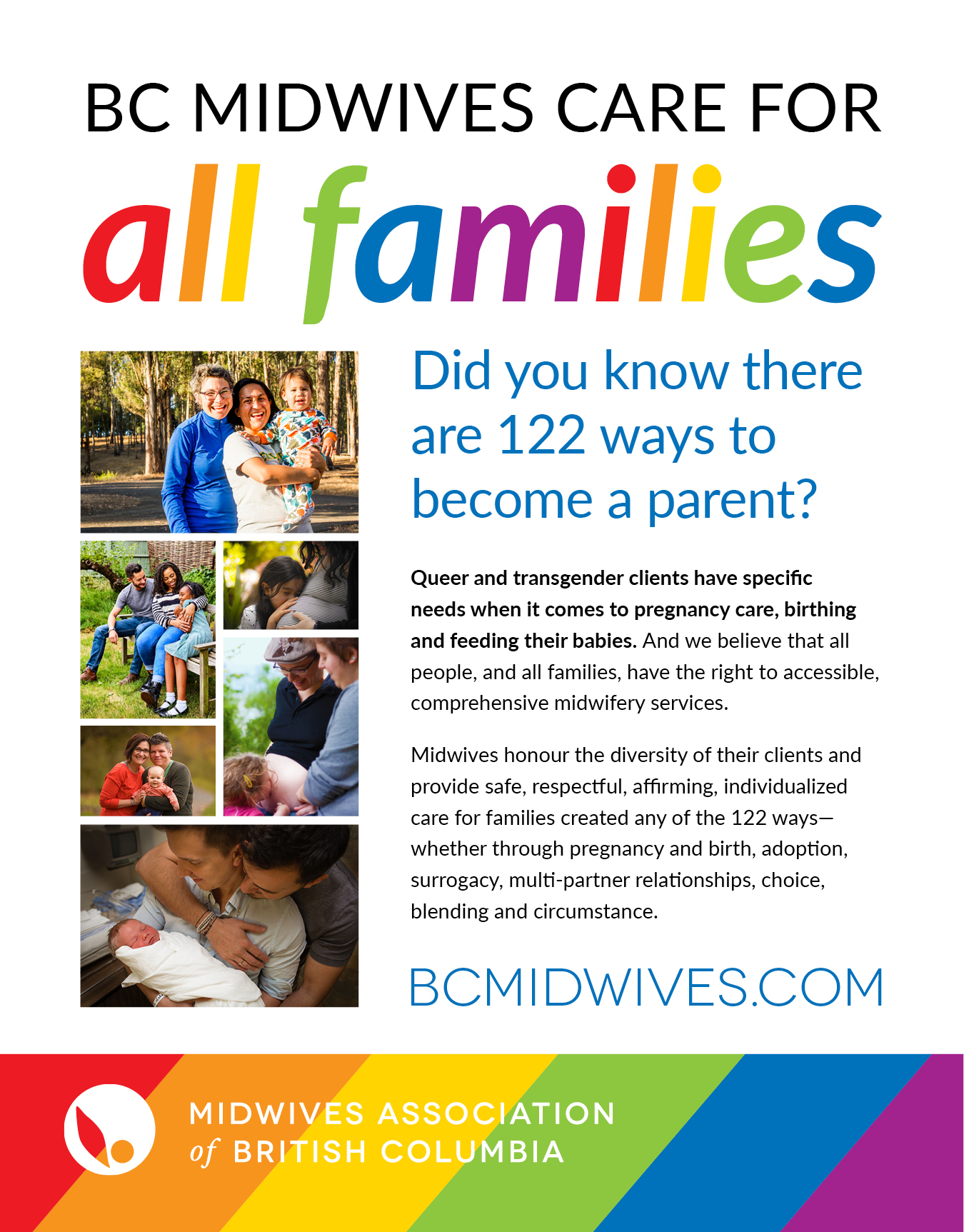 What is a midwife?
 In a nutshell, midwives are experts in healthy pregnancy and birth.
Registered Midwives in BC offer primary prenatal and perinatal care to healthy pregnant people and their newborn babies from early pregnancy, through labour and birth, until about six weeks following delivery. What does this really mean? Midwives listen, observe, educate, guide and care. They order and interpret tests and discuss results. They screen for physical, psychological, emotional and social health. The word midwife means "with women" but midwives are with all birthing people during pregnancy, labour and birth, normal and complicated. They catch babies. They do home visits after the baby is born. They help with feeding and lactation and adjusting to life with a new baby. They work together and with other health professionals. They practice evidence based, client-centred care for pregnant parents and newborns and are an established part of the BC health care system.
Do I need referral to see a midwife?
No referral is required.
How do I find a midwife?
Simply look up the contact details of your local midwifery practices and give them a call. To help you find a midwife in your area, use the search-able map on our website.
Are the costs of midwifery services covered in BC?
BC Ministry of Health funding covers the cost of midwifery services for all BC residents with a valid CareCard through the BC Medical Services Plan. 
When should I call to make my first appointment with a midwife?
Contact a midwife as soon as you know you are pregnant. Midwifery practices may become full quickly depending on the community and practice volume, however you can call at any time as spaces may become available or a practice may not be full for any given month.
Can I have a doctor and a midwife?
The BC Medical Services Plan covers only one primary care provider for the duration of your pregnancy and birth, to six weeks following delivery for healthy pregnancies. The choice of caregiver during your pregnancy is up to you. Midwives are experts in healthy pregnancy and normal birth and consult with family doctors and other specialists such as obstetricians as the need arises.
I am not covered by the BC medical services plan. Can I still have a midwife?
If you are a refugee covered by the Interim Federal Health Program you can call the Midwives Association of BC at 604-736-5976 to find a midwife registered with Medavie Blue Cross in your area. If you are not a refugee your first step is to make contact with a midwifery clinic and discuss with them the option of paying for your care privately. Midwives cannot charge you more than they bill the government, however that cost does not include supplies, laboratory tests and blood work, ultrasound scans, or any hospital or physician charges including the costs associated with hospital births.
How often do I see a midwife?
Most visits in the first part of pregnancy are scheduled every three to six weeks and last between 30–60 minutes. In the third trimester visits are scheduled more frequently and are often every week during the last month of pregnancy. Longer visits allow for physical, emotional and social health assessments and allow time for informed decision making and the development of a trusting relationship between clients and their care providers.
Can I choose where I give birth: at home or in hospital?
Midwives offer the choice of birthplace to those who are healthy and low risk, based on the principles of informed decision making. On average, 70% of births attended by midwives occur in hospitals. This number varies by practice and community.
For more information on home birth in BC read the CMBC Place of Birth Handbook for Clients.