In early November 2020, 402 midwives were invited to participate in a survey aimed at better understanding their experiences during COVID-19. The survey included questions about demand for home birth during COVID-19, levels of burnout, intentions to leave the profession, mental health issues and workload changes.
121 midwives responded to the survey (30% response rate)
Financial Concerns
1 in 4 midwives (25%) reported that COVID -19 had a major or moderate impact on their ability to meet financial obligations, such as rent or mortgage payments, utilities and
Specifically, 5% reported a major impact, 20% a moderate impact, 25% a minor impact, 10% said it was too soon to tell and 40% of midwives reported no
1 in 5 midwives reported that they struggle financially (20%) and 1 in 7 experience unstable employment (15%).
When asked what they had to do to meet work demands of COVID-19, 81% of midwives reported they had to buy or make their own Personal Protective Equipment (PPE), and 34% replied "Other" where most responses specified the many other costs incurred by COVID-19.
While more and more families in B.C. called on midwives for home births in the initial days of the pandemic, the B.C. government did not initially fund or provide PPE for midwives for home care including births and postpartum wellness checks for mothers and babies:
"Some of our clients began sourcing out PPE for us just so they could continue planning home (births). Our clinic spent a lot of money out of our own pocket to obtain extra gloves/masks/sanitizer/disinfectant (when stores were charging high prices for these items) to be able to provide home visits and home birth."
"We invested thousands in wipeable homebirth bags as we have a great responsibility for infection precaution with no financial support from government."
Midwives' already low pay and lack of sick days compared to other B.C. health care providers was also exacerbated during COVID-19:
"Having to juggle time off to get a swab and being asked to not work with any symptoms is totally unrealistic given the lack of sick leave and COVID-leave support from the government. We are financially punished for being socially responsible."
In open-ended comments, many midwives noted they were not able to access COVID-19 funding that was available to other health care providers. The added financial burden of practicing midwifery during the pandemic coupled with a perceived lack of respect and acknowledgement of midwifery from the government increased their levels of stress:
"The emails I receive encouraging the physicians to apply for $$$ so that they can be paid for their COVID prep, discussions, planning, reconfiguring their practices are particularly difficult to receive. I am angry and the lack of acknowledgement speaks volumes to the inequities in our system."
"It is disheartening how seldom midwives are mentioned as front-line essential health care workers by government and media. We were also not included in financial subsidies given to other healthcare workers. Midwives have really stepped up to help with this pandemic with very little recognition or help with the additional costs."
"The lack of acknowledgement from government/media/the community about the work we do as essential health care providers stings. Having to constantly advocate for our profession, for adequate compensation and for adequate PPE and resources is draining."
"It is disheartening and demoralizing to have none of this extra work we do acknowledged. Everyone else in the health care system has received COVID pay and we have gotten zero. I cannot tell you how upsetting this is. This is the one thing more than any of the other injustices we face as midwives that has pushed me into a place of real anger. We are working so hard, going above and beyond for our clients and colleagues and everyone around us is getting pay bonuses and we're getting ignored and overlooked again. It really hurts."
Work Patterns during COVID
The majority of midwives reported working more hours during COVID, with additional hours not necessarily translating into higher pay. Midwives absorbed significant additional expenses to keep themselves and their clients safe.
2 in 3 midwives (69%) said they are working more because of COVID or other circumstances outside of their control.
1 in 3 reported that their partner or another family member had to reduce their work hours or take a leave from work, so that midwives could continue going to work.
61% of midwives reported working at least 10 hours of additional unpaid work per month since COVID.
1 in 7 midwives spent more money on childcare.
When asked to estimate the number of unpaid midwifery work hours, the most common responses were: 5-10 hours per week (reported by 28% of midwives), 11-15 hours per week (28%), 16-20 hours per week (17%), and 21 or more hours per month (reported by 15%).
One midwife noted spending "countless extra hours organizing, sanitizing, counselling anxious parents, rescheduling, newsletters, etc."
"I had to pay for call and clinic coverage due to pending COVID swabs."
"I had to get a second residence so I could isolate from my family as needed."
"I had to use almost every waking hour either working or at meetings, sourcing or making PPE, and keeping up to date on guidelines."
Midwives noted that other health care providers were supported to make changes in work both in clinic and hospital environments, but midwives were again excluded from any support:
"I am disheartened at the level of exceptional care that midwives provide in a pandemic (so much gratitude from clients) and the complete lack of funding and support from the government. Seeing what other allied health has been offered in terms of PPE, telehealth and pandemic pay supports makes me feel so undervalued for the work we do."
"We've had to fight for every gain (even basic things like access to PPE for care in the community). It is exhausting and demeaning to be a front-line worker without the recognition & respect that front-line workers were generally given (new fee codes & support, even political 'lip service'). I am usually very much a 'glass half full' person, but now I am angry."
Keeping Clients Safe and Taking Pressure off the Hospital System
As the only health care providers who provide primary maternity care services both in hospital and at home, midwives are on-call and available 24 hours a day, and care for 25% of expecting families in BC. By providing many of their services such as early labour, postpartum, or newborn care in clients' homes, midwives reduce the risk of exposure to COVID-19. With a reputation for relationship-building and compassion, they offer crucial clinical expertise and psychological support for families impacted by the stress and uncertainty of COVID-19:
"Women are more anxious and are wanting more visits not less. Phone calls aren't enough."
"Having to manage / make space for client's heightened emotions and stress levels (ex: frustration about having only 1 support person at hospital)"
"(I spend) more time with clients d/t (clients') increased stress and anxiety."
During COVID, midwives continued to provide services in the community, reducing pressure on hospital resources and enabling families to receive essential services in the safety of their own homes. Most midwives surveyed offered early discharge from hospital for clients and/or newborns during COVID (83%), did postpartum follow up visits (86%), breastfeeding support in client's homes (77%), and were available to provide clients with on-call telephone support (86%). Midwives recognize that this part of their work is of great value and noted this makes the lack of government support even more difficult to understand:
"We are providing HUGE services to this community and decreasing the hospital's workload with ZERO recognition or financial compensation for this. It's shocking."
Demand for Home Birth during COVID
Midwives were asked whether they have seen a noticeable increase in the number of their clients who inquire about home birth during COVID (March until November) compared to before COVID (February 2020 and earlier).
89% of midwives reported increased interest in home births among their clients during COVID, with 39% seeing a moderate or large increase in interest.
On average midwives provide care for up to 5 clients per month. Of the midwives who have seen an increase in interest in home birth, pre-COVID they had an average of 1.6 clients who planned a home birth, and during COVID this number increased to 2.7. In other words, one additional client per midwife per month, on average, planned a home birth during COVID.
However, midwives' ability to offer home birth was impacted by lack of PPE, and midwives recognized that the lack of government support impacted not only their work but also negatively impacted birthing families:
"At the beginning of the COVID pandemic, suddenly so many clients wanted a home birth and we were not provided PPE from our hospitals and health authorities for homebirths (we were only provided PPE when we were in the hospital for a birth, which was very disheartening) and took away women's choice….(Y)et the midwife is going to end up using a set of PPE anyways when she delivers in their hospital. This double standard was very stressful and upsetting for both midwives and clients."
Mental Health & Stress
1 in 4 midwives (26%) have been diagnosed with anxiety, depression, or another mental health condition since they started working as a midwife.
Most midwives (80%) reported that their mental health was worse now, compared to before physical distancing began; 1 in 5 midwives (21%) said their mental health was much worse now.
30% of midwives reported recurrent and unwanted memories of something that happened at work.
16% had experienced a critical incident at work within the past year.
17% experience conflict with one or more of their practice partners that has not been resolved.
When asked to think about the amount of stress in their life, 13% of midwives described most of their days as extremely stressful and 49% as quite stressful.
Many midwives connected increased stress to increased work demands and risk of exposure for themselves and their families:
"I still find myself worried and stressed about the long-term impacts (of COVID)"
"Waiting for my client's COVID swab to come back … was one of the most stressful experiences of my life."
"In addition to the obvious huge stressors, the pandemic has carried a "micro stress" with almost everything we do (constant cleaning and sanitizing, all the new topics that clients need to discuss and their anxieties about COVID...). Even just being in a mask in a hospital setting all day can have a huge impact on how you feel physically."
Midwives, many of whom have young families of their own, were particularly concerned about their families during COVID:
"I feel worried for myself and my family all the time".
"I worry my work is putting my family, particularly my mother, at risk of Covid." "If I could have afforded it, I would have stopped working to protect my family."
"The thought of having to isolate myself away from my husband and young children is extremely stressful." 
Unlike other health care providers, midwives are not able to access employee or government sponsored mental health programming:
"I am spending heaps of money on counselling and have separated from my partner. The stress has been too much."
"Our families are suffering because we are working so much harder and are under so much stress. Our own mental health and collegial relationships are suffering… everyone is holding on by a thread. Having a real acknowledgment by our government would make a difference."
Burnout & Intentions to Leave – 2017-2020
Work-related burnout increased between 2017 and November 2020.
The proportion of midwives who reported moderate to high work-related burnout increased from 45% in 2017 (n=137) to 77% during COVID (n=111). Work-related burnout is "the degree of physical and psychological fatigue and exhaustion that is perceived by the person as related to his/her work.''
Midwives perceived their burnout as being related to their work, increased demands during COVID, and again a lack of recognition and support from the government:
"Covid and the increased hours of unpaid work…has been draining. I used to be able to get through a day of clinic just fine, but now, I feel I'm buzzing at the end of each day because there's more to do and less time to do it in.
Since Covid, I feel the extra workload (which includes the "extra emotional work" and energy it takes to support clients through this time) has been a tipping point."
"A huge stress is that midwives do not have any benefits or compensation for leave - therefore (we) need to work more to cover the sick midwife."
"Feeling undervalued by the lack of recognition in terms of appropriate compensation for Covid related and other work is so tiring and demoralizing. Little improvement of our contract with the Ministry has also been really challenging and contributes to my burnout because I feel we are undervalued."
The proportion of midwives who made plans to leave the profession more than doubled between 2017 and 2020.
1 in 5 (20%) midwives are taking active steps to leave the profession.
When looking at intentions to leave by subgroups, we found that 1 in 4 midwives (25%) who self- identified as BIPOC (n=16) are taking active steps to leave the profession. In addition to the impact of job loss or career transitions on midwives, this attrition would have devastating consequences for clients and midwifery students from BIPOC communities, many of whom are looking to learn from and be cared for by midwives who understand their lived experience and can provide culturally congruent care.
Of the 16 solo practitioners who responded to the survey, 12 (75%) had seriously considered leaving the profession. 10 have seriously considered leaving but have not made plans, and 2 are taking active steps to leave the profession. When solo midwives leave the profession, it often means their community is left without midwifery care.
Other notable subgroup differences were the high proportion of midwives from sexual and gender minorities who reported moderate to high work-related burn out (88% versus 77% for the full sample). These results highlight the disproportionate impact of COVID on midwives from minority groups.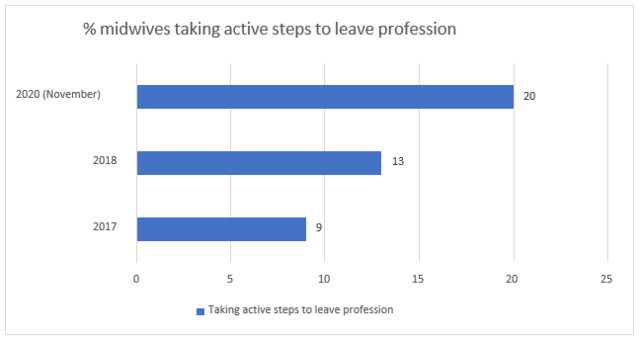 With 1 in 5 midwives taking active steps to leave the profession, it will be very challenging for the province to realize the benefits of scaling up midwifery, such as cost savings, good health outcomes, and increased access to person-centered pregnancy and birth care. In spite of the fact that the government recognizes that midwives are equally competent and grants them with the same responsibilities as family physicians and obstetricians for low risk pregnancy, midwives are significantly behind other primary health care providers, such as nurse  practitioners and family physicians, in terms of work recognition, compensation, and support for their practice. The lack of support for midwives while they put themselves at risk to care for birthing families has been laid bare by COVID-19:
"Midwives, unlike doctors and nurses, were provided no extra pay for extra work we did and the added stress and responsibility due to the pandemic. As midwives we are physically vulnerable to COVID exposure due to our proximity to women and their families during labour and yet there is no acknowledgment of that."
"Doing deliveries in the isolation room for Covid-unknown cases has also been challenging - it's just been an added stress to everything and I am really unhappy these days. Every month I consider giving my required 8 months  notice and just moving on in a new direction that offers better benefits and security."
COVID-19 has exposed a critical lack of government support for midwifery and a midwifery workforce in crisis. This not only negatively impacts midwives, but also the families they care for every day that the pandemic continues.
Characteristics of respondents (n=121)
| | |
| --- | --- |
|   | n |
| I am a recent graduate (within first year of active practice) | 5 |
| I am a solo practitioner | 16 |
| I am from a racial/ethnic minority | 8 |
| I am from a sexual or gender minority | 16 |
| I am a newcomer to Canada, i.e. arrived in Canada within the last 3 years | 3 |
| I am First Nations, Métis or Inuk | 4 |
| I am a single parent | 8 |
| I am the parent of a child or children under 5 years of age | 24 |
| I have chronic health problems and/or a disability that interfere with my ability to carry out my job | 8 |
| I have other conditions or life circumstances that interfere with my ability to carry out my job | 14 |