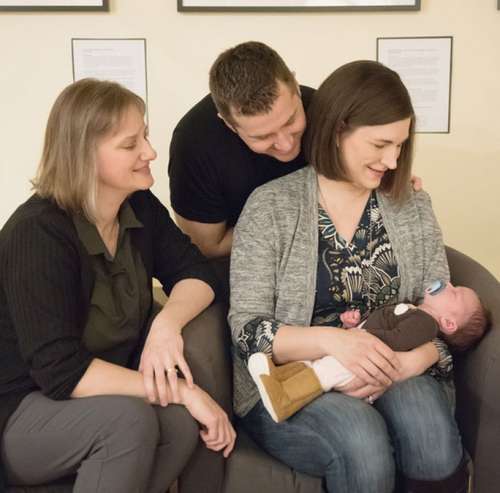 South Delta Midwifery founder Jane Wines (left), dad Josh, mom Courtnay and baby Emily, who marks the local business' 1,
South Delta Midwifery marked a milestone last month with the arrival of its 1,000th baby.
"I think it's a huge achievement to be able to do that," said founder Jane Wines, who started the business in 2005.
The 1,000th baby, a girl named Emily, was born to parents Courtnay and Josh Mawhorter of Ladner. Courtnay said she's used South Delta Midwifery with all three of their children.
"The support they give you throughout the duration of your pregnancy, throughout the whole time, has been phenomenal," she said.
Midwives can provide all the care a healthy, low risk woman needs during her pregnancy and birth, explained South Delta Midwifery practice partner Alix Bacon.
"We have regular prenatal appointments with them where we monitor their wellbeing and the wellbeing of their baby," she said.
Midwives can order lab tests and ultrasounds and interpret them, can prescribe medications that are pregnancy specific and are with new moms through the birth, Bacon explained, adding clients can choose between hospital and home births.
Support continues for the new baby's first six weeks, including home visits every other day during the first week, she said.
Wines said the business, which has grown from a solo practice to five midwives, has many repeat customers and that most clients still come by word of mouth.
Bacon recommends clients get in touch with the business by the time they're eight weeks pregnant.
For more information, visit www.southdeltamidwifery.ca.
- See more at: http://www.delta-optimist.com/news/business/midwifery-reaches-milestone-with-its-1-000th-arrival-1.13289244#sthash.CgdPkiKk.dpuf