Allison Campbell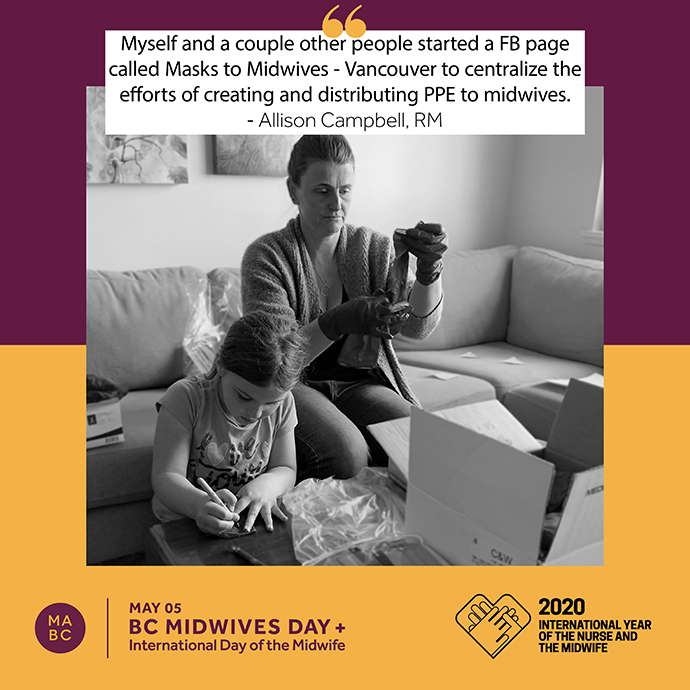 Can you please tell me about what you've been doing to support your midwifery colleagues through this crisis? 
Shortly after the pandemic was declared, all anyone could talk about was PPE. What it was, when/where we had to wear it, and most importantly, where we could get it. The HBSP didn't have it, and the hospitals didn't have enough to spare. People started talking about making their own masks, and because I am a sewer and wanted to do something to help, I quickly got to work doing that. Through that I started talking to people who were trying to find creative solutions for making PPE, and others who wanted to sew. Midwives started asking me if I knew where they could get homemade PPE. So I and a couple other people (the partner of a midwife, and a midwifery student - now graduate!) started a FB page called Masks to Midwives - Vancouver, centralize the efforts of creating and distributing PPE to midwives.
Since then, we have distributed literally hundreds of manufactured and volunteer-made masks, and hundreds of volunteer-made gowns to midwives in the Vancouver area and beyond. When the Health Authority came through with hospital-issue PPE for home births, we distributed that too, because we already had a system set up, and contacts with each clinic. We are now focusing more on scrub caps, and making sure every midwife who needs it, has the PPE they need for work in the community.
How has the pandemic impacted you as a UBC Midwifery instructor and midwife?
As the Undergraduate Program Lead for the UBC Midwifery Program, my main work-related responsibility has been overseeing the education program, and supporting our students through the initial phases of the pandemic. At first this meant pulling students abruptly out of clinical placements, and supporting instructors to start delivering all classes online, with about 2 days' notice. Our main next task was ensuring all the fourth years could write their final exam and graduate on schedule - which they did! Hooray! Now I'm working hard to reorganize summer coursework that the third years are missing out on, so that their eventual graduation date (and subsequent registration as midwives) won't be too badly delayed. There are a lot of balls in the air for the education program, and we're trying to respond to the ever-changing landscape, while also continuing to move the program forward. We've just gone through the Admissions process for the new class who will start in September (they are, as always, an incredible group!), and there are the usual end-of-term tasks to complete. So it's been a challenge to be in both crisis-management mode AND business-as-usual mode at the same time.
Meanwhile, as a midwife, I've been very aware of how the pandemic has impacted my colleagues - my friends, my midwife-sisters. From having students unceremoniously pulled from their practices without any chance for proper closure, to completely reorganizing the way we provide care, to the emotional toll this is taking on absolutely everyone. I started coordinating the PPE stuff because I figured this was one small thing I could take off their plates, since I didn't have the pressures of clinical practice to deal with at the time.
I've since done a (very little) bit of clinical practice, and it has been a whole other challenge to wrap my head around how to provide care and keep myself and the clients safe at the same time. I know everyone has been dealing with that. I was really stressed about it, but I'm glad I've had the chance to experience it now, so it will be less stressful going forward.
Can you please describe a snapshot of a recent workday? 
Currently I am still focusing on UBC work, as I mentioned above, there is a lot going on there. So a typical day for me is spent like everyone: managing the impossible task of working at home (so. many. zoomz.) while also being teacher, playmate, soccer/cycling coach and short-order cook for my son. About one or two days each couple of weeks have been taken up with gathering, compiling and distributing PPE bundles, which just looks like basically a mess in my living room.
In May and June I will be taking on a bit more clinical practice as well, and everyone reading this will know how that's going to look!
What, if anything, is helping you get through this crisis?
Hard question. One day at a time, I guess, recognizing that some days are better than others. When I was in Midwifery school we used to say to each other, "I can do anything for !" Whether it was facing yet another long week of call, or a pending nighttime induction on the tail-end of another birth, or having to do nothing but study for several days before an exam ... it was a way to remember that whatever the hard thing is, it's not going to go on forever. And that we are resilient! I guess I'm trying to channel that reminder. It doesn't always work, since of course we don't know how long this will go on for, but the feeling is there.
I also go for walks and am watching cooking videos. And try to remember how fortunate I am to have job security, housing and personal safety, and plenty of good food to eat. And that it's spring in Vancouver, which is a beautiful thing in itself.
Is there anything else you'd like to add?
I do want to add a serious shout-out to the midwifery students who have been so understanding about having their education disrupted like this, and have been very patient as we try to sort out what's going to happen for them, and when and how. And also, to the students who have created a Volunteer Task Force, and through that, offered to support midwives in whatever concrete ways they can - grocery shopping, or what have you. Student volunteers have done the bulk of the actual PPE distribution in the Vancouver area, and that has been a tremendous load off my plate. One student (graduate!) is reaching out to midwives across the province, to make sure they all have the PPE they need. All of this is completely unexpected, and I am so humbled by their generosity, at a time when it would be so much easier just to focus on their own life-disruptions. We are really so fortunate to have these incredible people in our community, and among our colleagues.