Ariel Christman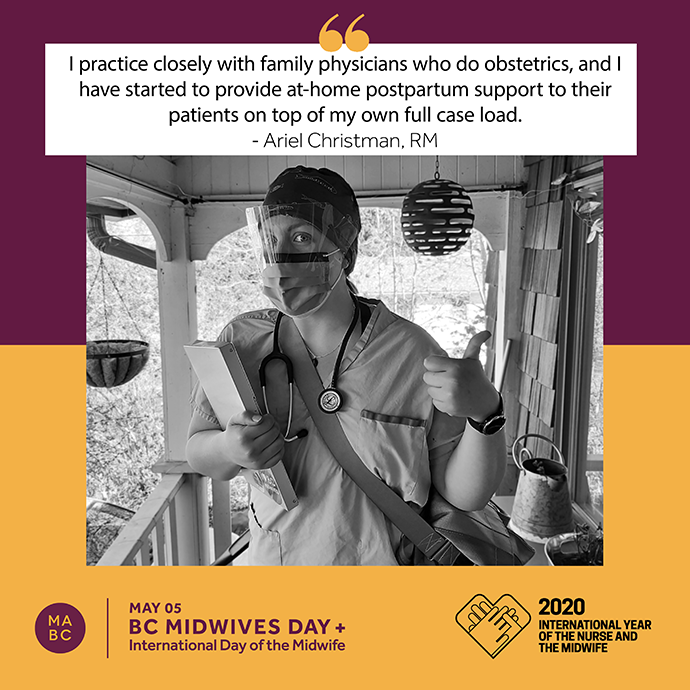 What are the challenges you're facing as a midwife practicing during the pandemic?
During the pandemic I, like all of our colleagues, have had to make changes to my care schedules and changes to my attire/personal protection during interactions. This has been a unique challenge in ensuring a sustainable supply of equipment. Furthermore, as I practice closely in an office and in my community with family physicians who do obstetrics, I have started to provide at-home postpartum support to their patients on top of my own full case load.
How has your midwifery practice changed since the pandemic? 
Even as a solo midwife, our physician and midwife group is working hard to develop an innovative strategy to support families to remain at home and to avoid multiple clinic and hospital visits for routine care in the postpartum period. We feel that even amidst the increased stress this pandemic has placed on our work, we see this as an opportunity to be creative and find greater community service sustainability that may live on beyond COVID-19.
Can you please describe a snapshot of a recent workday?
This past Wednesday, I started at the hospital at 9am for a COVID simulation for an emergency cesarean section and grabbed my disposable PPE for the week.  Then I dashed to clinic to see a full morning and afternoon of in-person and phone prenatal appointments.  During my lunch I met with our facility project manager to work on our project application for funding to aid ongoing COVID-19 preparedness efforts and ongoing collaborative efforts between midwives and physicians. Lastly, I saw 2 new babies in their homes and aided 2 new mums with breastfeeding challenges. 3 late night emails and a call to the clinic pager to finally call it a day!
What, if anything, is helping you get through this crisis?
The support from my team at my hospital and the cheer we each spread in our interactions with those we care for gives me hope that new and sustainable ways of working together to serve our community are happening!  We are seeing COVID as a mechanism for change and change for the good!