Jen Arnosti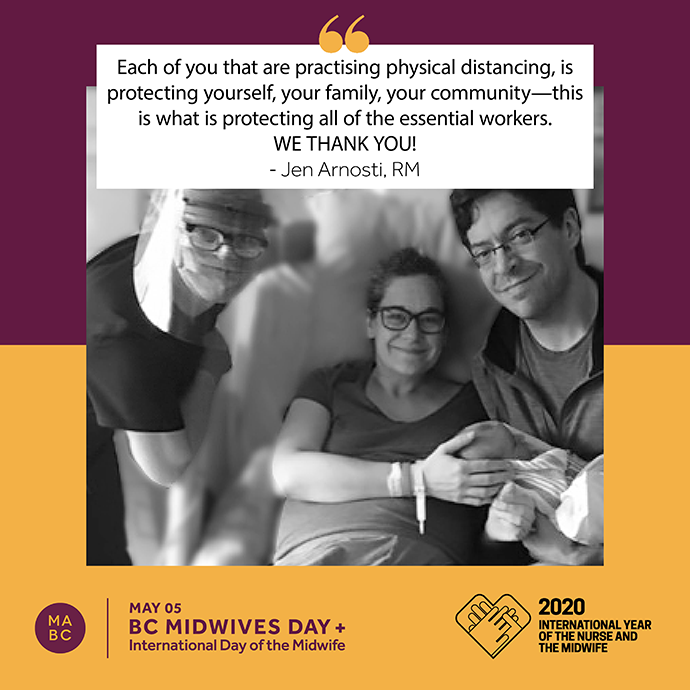 I'm Jenifer Arnosti & I am a midwife in the Kootenays.
During COVID it has been stated a multitude of times, "we thank the front line". I would like to say a big thank you to you. Each & everyone of you that has been practising strict physical distancing: YOU are the FRONTLINE. Each of you that are practising physical distancing, is protecting yourself, your family, your community-this is what is protecting all of the essential workers. WE THANK YOU!!
As a midwife I am honored to care for families bringing new family members into the world. When you are pregnant, it is the time that I see people take the best care of themselves to start their child's life with the healthiest start possible. During Covid, this has continued. I would like to congratulate all the pregnant families for enduring this time & for reaching out when you require assistance. I thank everyone that is following the Covid protocols-you are helping keep our pregnant families healthy.
Some of the changes our pregnant families are experiencing while attending appointments with their midwife are: Only the pregnant person can attend their appointments-a time that is usually shared with their partner & loved ones. Your midwife no longer has facial expression. I am now covered by a mask, shield, cap, gloves, scrubs-I am still here for you. I will support you through your pregnancy, labour & delivery and continue to do so after your baby is born. Know that you will continue to receive the highest level of care for yourself & your baby.
No visitors allowed means families are unable to share their new bundle with family and friends at the hospital or at home-but that time will come. I urge you to celebrate your babys' arrival! At our hospital-administration, managers & the maintenance department have made changes to ensure we continue to have a safe place for our pregnant families to birth. I will still be providing home births to families that qualify & choose this option.
Please continue following Dr Bonnie Henry's recommendations. This helps keep you & me healthy!
YOU are the FRONTLINE!!