Cathy Ellis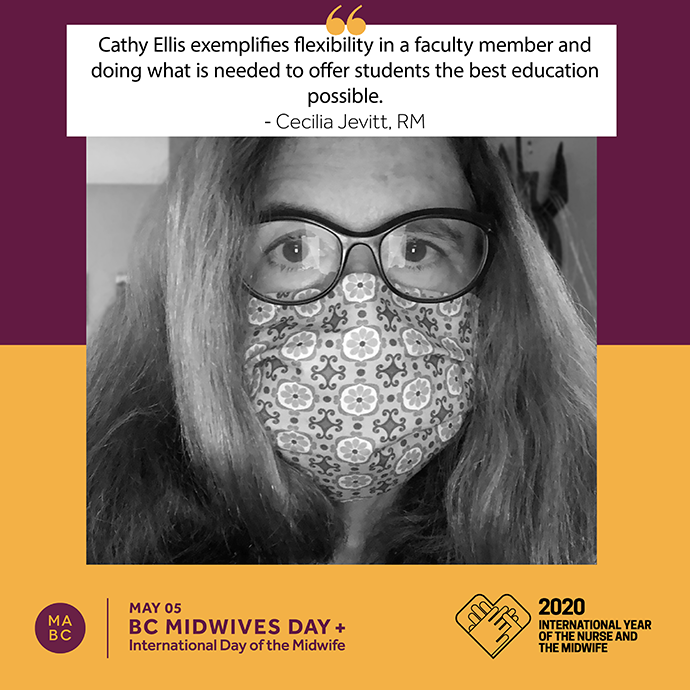 What are the challenges you're facing as a midwife practicing during the pandemic?
Midwifery education at UBC has for the time gone totally online. Faculty can't even offer in-person small group skills labs. Cathy, along with her partner,  Mickey Rostoker, who is family practice physician, developed a virtual physical assessment review that was offered online to the Internationally Educated Bridging Midwives. They filmed in their home. The session was a huge hit with the Bridging midwives.
Before Cathy did online physical exam, she coordinated quilters for sewing of protective masks for midwifery practices when no PPE was available. Additionally, Cathy had gathered supplies for her global health teaching in Uganda and Nepal. Those trips were cancelled just as faculty and students were packing to leave. Cathy donated PPE supplies from her global supplies to midwifery practices in metropolitan Vancouver.
How has your midwifery practice or support work changed since the pandemic?
Cathy has volunteered to help out the midwifery team at BC Women's Hospital if needed. Cathy has also been brainstorming ways to deliver NRP and MESP skills components online. She has become a virtual midwife.
Can you please describe a snapshot of a recent workday?
Cathy has taught blended classes for years with some students in the classroom and some attending by videoconferencing. When in person class attendance was cancelled several weeks before the UBC term ended, Cathy seamlessly completed the term online. She has attended faculty meetings online, pandemic planning meetings online, and taught clinical skills online with videoconferencing. She did 8 hours of admissions interviews online, talking with prospective students and rating their responses. This was a first use of totally online admissions for UBC Midwifery. Then, the Admissions Committee met online and Cathy helped with final selections. Cathy exemplifies flexibility in a faculty member and doing what is needed by the students to offer them the best education possible.
What, if anything, is helping you get through this crisis?
The UBC Midwifery Faculty believes that Cathy's extensive experience in developing regions underpins her creativity and ability to cope with challenging situations. She can see what is actually needed in any scenario and make-do with few material supplies. Additionally, she has lived in other cultures and has a gift for seeing what people have in common before seeing their differences. Her kindness and limitless energy are a blessing to the UBC faculty.
-Answers submitted by Cecilia Jevitt, UBC Midwifery Director