Sivan Bar-Sever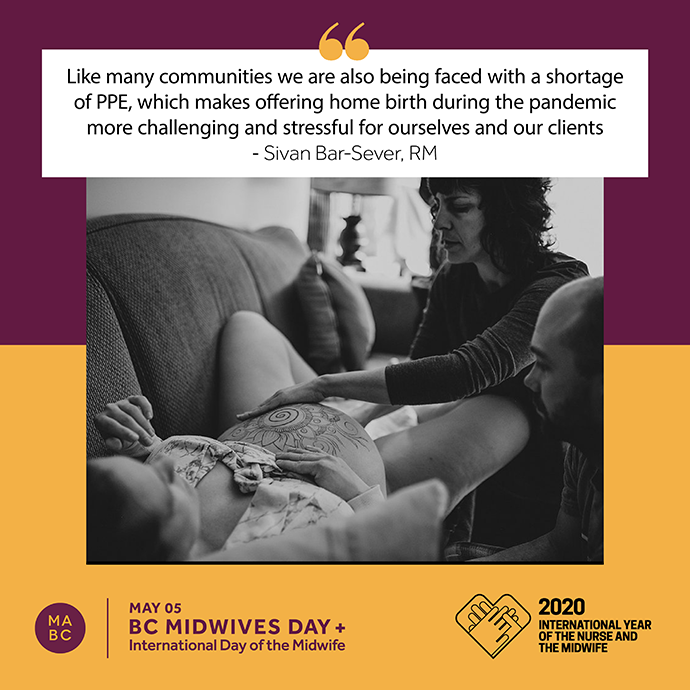 What are some of the challenges your are facing as a midwife during the pandemic? 
I think many maternity care providers are struggling with providing a comforting, personalized approach in these times. The reduced in-person visits and personal protective equipment (PPE) feels strange and uncomfortable to me, I can only imagine what our clients (soon to be parents) are going through! Like many communities we are also being faced with a shortage of PPE, which makes offering home birth during the pandemic more challenging and stressful for ourselves and our clients. We are so grateful to live in a supportive community that has offered to make us masks, and also a special shoutout to the UBC midwifery students volunteer group and Masks for Midwives in Vancouver supplying us with PPE for homebirths!
What has helped you get through this crisis?
The many years of working in this demanding profession have prepared me with a plethora of self care tools! I am very cognizant that loss of sleep affects our circadian rhythms and can play havoc on our body. I try and rest whenever I feel I need, and justify it by reminding myself that very soon I will be working at night once again! I eat a lot of fresh green vegetables and protein and try and stay well hydrated especially during a long shift. I also take high quality supplements and see an osteopath, acupuncturist, and massage therapist (when possible!) I have found reducing my intake of dairy, sugar and wheat while working helps my body bounce back from long overnight shifts or stressful events. When I have time off I really treasure being with my family, exercising and going out into nature to recharge and relax. Dancing, music and art are also integral for me ALWAYS to remind me to play and feed my soul!
I would like to add that Midwives are resilient, strong, dedicated people and if anything I have witnessed this pandemic bringing us together, thinking outside the box to support each other and our clients, and working hard to provide exceptional care despite many challenges. I am so very proud to be part of this community!
HAPPY MIDWIVES DAY TO ALL OF YOU!!!!