Lauren MacHattie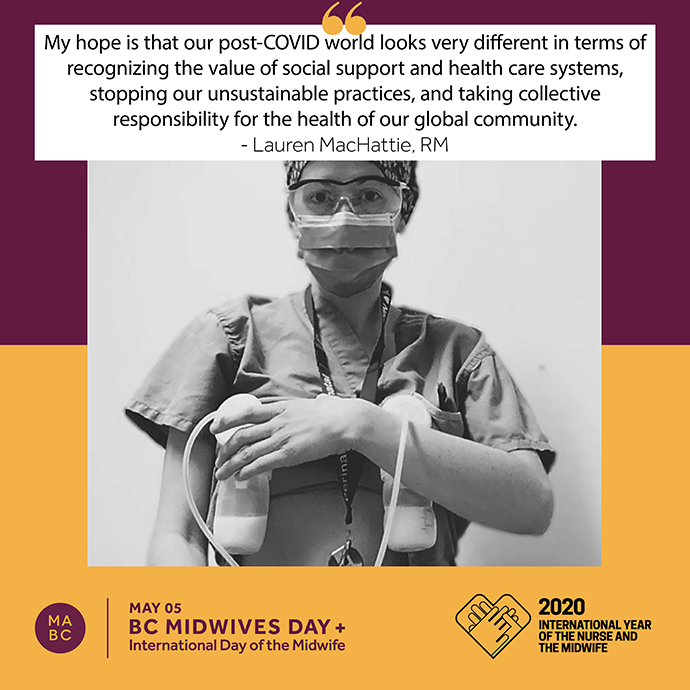 What are the challenges you're facing as a midwife practicing during the pandemic?
Everyone is adjusting to the unknown right now. As midwives, we help people navigate the unknown every time they go through a pregnancy or birth, so I think that's been good preparation for the COVID-19 pandemic. We help people find their centre in the midst of chaos and change all the time, and now our challenge is to do it ourselves. It seems every week we are adapting the way we work and making new changes to meet a balance of protecting our clients and ourselves, while providing support and meeting the important need for in-person support for our clients and their families. One of the immediate challenges we faced was not having access to much PPE. To mitigate this, we were sourcing our own at personal expense, we were sewing our own gowns and caps, and we were getting creative with what we had to minimize exposure between people. 
My family and I are juggling childcare with our full-time jobs. This has meant we have spent wonderful moments together that we wouldn't have otherwise, but we are also very tired! At the same time, we feel very lucky to be employed and have safe housing and access to food, which is not the case for so many others.  
How has your midwifery practice changed since the pandemic?
We decided to physically move our entire clinic into a smaller, self-contained space that allowed us to sanitize it well between client visits and control who was entering to keep everyone safer. It was a good challenge to re-imagine what bare-bones essentials we needed to run our clinic, and what could be modified or removed to reduce infection risk. We have actually (crazily) started renovating a new larger space to meet our practice's needs longer term in the context of COVID coming and going for the foreseeable future. We are hammering, sanding, and drilling away our COVID-related worries!
I overhauled my home birth and postpartum visit equipment to be easily sanitized between clients I see in the community. This meant repackaging everything into totes, toolboxes and wipe-able bags. I keep a bag of clothes, caps and gowns in the trunk of my car along with PPE, work shoes and cleaning supplies. Everything gets sanitized and clothing changed between every client and before coming home again. This takes extra time, but it feels important to reduce the chance of virus transmission between clients and to protect my family from being exposed to all of my contacts.
Our practice adapted our visit schedule to follow the WHO guidelines and are seeing people virtually as well. We have taken advantage of midwives' scope and flexibility of practice to help clients avoid unnecessary lab trips by drawing their blood, help keep them out of the hospital when that is their preference, and help reduce interventions that involve increased exposure whenever possible. It is different to be connecting with clients less frequently and from behind a mask and glasses - nearly every visit, we discuss issues relating to emotional well-being, mental health, relationships, social supports and hopes and disappointments. Connecting on a human level about tender, vulnerable subjects is a little bit harder with a screen or a mask or six feet between us. 
Can you please describe a snapshot of a recent workday?
The photo I've shared is one I took of myself at the hospital taking a break to pump while supporting a client's labour for 19 hours. I was wearing a recycled mask that I'd brought from home, unsure of when we'd have regular access to PPE and whether the shortage of masks would be severe as the pandemic worsened. This was early in the unfolding of the pandemic. I was exhausted and worried about whether the virus was spreading more rapidly than we knew, and worried about being the one to bring the virus home to my family. My hands were cracked and painful from washing and sanitizing countless times. I was hungry and thirsty, because removing PPE carefully every time you need to eat or use the washroom isn't very practical. Despite that, I was able to support a couple as they worked very hard through their long labour, and got to help catch a beautiful healthy baby in the end. Even in the middle of a pandemic, there is nothing that replaces the feeling of getting to attend a birth and help create a space of safety for the birthing family to feel as supported and healthy as possible. When I returned home later that night, I shed my clothes, cap, glasses, mask, and clogs and sanitized anything I'd brought to the hospital, then had a hot shower and was delighted to change into comfortable clothes again!
What, if anything, is helping you get through this crisis?
Our team is made up of strong, capable midwives and amazing admin staff. We have been virtually meeting every week and continuing to check in with each others' well-being, and are helping each other through. We are also making contingency plans in the event our team's capacity is reduced by quarantine or illness.
When I am at home I have tried to keep coming back to the things that make me happy: growing seedlings, incubating and raising chicks, cooking food, reading anything but the news, knitting, laughing and playing with our toddler and my partner, and connecting with friends and family. I have really valued thinking about the kind of life we'd like to return to after the pandemic calms down: what do we want to keep of our former ways of living and working, and what can we let go of? What inequalities and unsustainable practices can we finally recognize and do something about? How can we become a more functional community? My hope is that our post-COVID world looks very different in terms of recognizing the value of social support and health care systems, stopping our unsustainable practices, and taking collective responsibility for the health of our global community.