Michele Buchmann & Joanna Webber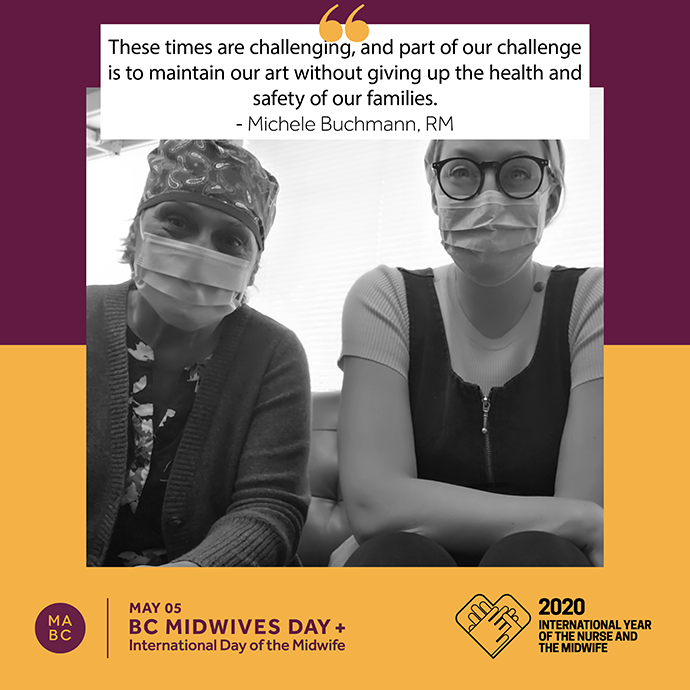 What are the challenges you're facing as a midwife practicing during the pandemic?
Michele: The first 2-3 weeks of this pandemic were powerfully stressful. I can honestly say those days were the most stressful and frightening days I have ever experienced in 28 years of practice. The unknown was really taking a toll on my relaxed and easy nature. I was cranky and snappy and frustrated and scared. The information was coming in fast and furiously, and often contradicted itself on a daily, if not hourly, basis. Which is utterly understandable; this was and is brand new territory. We quickly learned that we did not have enough of the supplies that were required—PPE. The amazing things that started happening still make my heart swell. We all came together to help one another, sharing supplies, finding supplies, buying supplies, trading supplies, making supplies. The midwifery community and the greater medical community showed so much heart and dedication .... truly made me proud to be part of this group of amazing folks.
Our midwifery community in Victoria came together to make contingency plans should any of us become ill. First and foremost, the families would never lose midwifery care and midwives would be cared for in a variety of ways. With deep gratefulness, we have not needed to cross that bridge.
The challenge of changing up our clinic space and how we engage with clients was jarring. We communicated often and directly with all our clients to keep them informed and calm. We quickly learned that communication was key (of course); whether we knew the answer or not, just talking on the phone meant everything to frightened pregnant families.
At this point we have settled into the chaos, found our ground and carry on. The challenge remains in keeping ourselves and our families safe while trying to provide the midwifery care that is so deeply embedded in my heart.
Joanna: There have been lots of hurdles and challenges given COVID-19, but I am happy to report that routines seem to be more settled now. The biggest challenge for me was not being able to have long face-to-face appointments and having to build that trust with families in other ways. There is something so intimate and special about being able to go to someones house postpartum and sit with them on their bed, helping them with breastfeeding. That can't really happen anymore given the precautions we are all taking, so finding new ways to spend time with patients and build that trust and share that knowledge has been a learning experience. 
How has your midwifery practice changed since the pandemic?
Michele: The best and simplest way I can explain this is that our practice has changed profoundly in its physical manifestations; the heart and soul has not altered.
The way we conduct visits has changed. The first part of our appointment is by phone, usually from the parking lot. The final 5-10 minutes involve a blood pressure and a belly check. And then a complete wipe down of the clinic before the next client enters. We have opened up communication with clients through texting, email, calls. It allows the midwife/client relationship to endure. Given that we have a relatively small, semi-rural and urban practice, this has never overwhelmed us or made us feel "too available."
Rather than go into all the details of daily practice, sanitizing and repeating many times a day...I know that there are many families grieving the loss of their vision, their hope and desire for their birth experience. It is my hope, as a midwife, that this COVID-19 experience teaches us to lean into our families, our friends, ourselves.
"In the birthing process, the wise woman enables the mother
to give birth by herself
A midwife removes obstructions, creates safety
and stays out of the way.
After birth, the mother takes pride in the process
of natural childbirth. 'I did it myself'
as the midwife slips away"
The Tao of Women
Pamela Metz
These times are challenging, and part of our challenge is to maintain our art without giving up the health and safety of our families.
Joanna: It has changed in many ways but we are still trying to hold onto the same tenants of midwifery as much as possible. The starkest change is the extra time spent on my computer and on the phone than previously, and the limiting of face-to-face encounters with patients and their families as much as possible. Wiping down everything in the clinic, at home visits, and in the car after patient encounters has become a new routine that I never would have expected.
Can you please describe a snapshot of a recent workday?
Joanna: Today I had clinic. I woke up and got ready for work, I used to stop by a local coffee shop on my way into the clinic and grab a quick bite and a Americano, but I am now making breakfast and tea at home before going in. Once I was at the clinic, I organized my labs, sent any consults that were needed, and answered the extra emails that came in because of the new pandemic schedule. Patients are calling now before coming into the clinic space and we are conducting most of the visits and informed choice discussions on the phone while they wait in their car or outside the clinic. I have several patients without access to cell phones so this is obviously different for them. I had fewer clients in for visits than normal because of the new WHO visit schedule, but it seems like there are more questions because of the limited visits.
Before people come in, I wash my hands put on a mask, eye protection, and hair coverage for the short physical assessment. Patients wash their hands upon entry and exit of the clinic. When they leave, I sanitize the doorknobs, bathroom, assessment table, and equipment. At the end of the clinic day, I try and sanitize anything that could have been touched (computer, file cabinet, fax machine, phone, etc.) to limit exposure between the other midwives at the clinic.
Our office assistant only comes in on days when we are not there and I miss her being around the office. Once the day is done I wash all my own things such as cell phone, purse, computer, mug, etc. Once home, I spray my car down with disinfectant and enter the house through the back door. I take all my clothes off and put it right in the washing machine. I take all my things and sanitize them. I wash my shoes with bleach and then spray down the floor. After that, I wash my own hands and have a shower and wash my hair. It's a lot of sanitizing in a much more intense way but this routine, however wild it was at first, is starting to settle now.
What, if anything, is helping you get through this crisis?
Joanna: Many things are helping me get through this crisis. Mainly having such open, honest communication with my practice partner—we can always seem to make jokes and vent about the current situation in an uplifting way. It's nice to see her face when my other social interactions are so limited. Additionally, being 25 weeks pregnant during this pandemic has definitely had its emotional ups-and-downs but feeling the fetus kick and watching my uterus grow have been exciting and motivating during this crisis. As always in the Saanich Peninsula this time of year, with the blossoms and the sunshine, it's hard to feel too bogged down!