International Day of the Midwife
For International Day of the Midwife (IDM) and B.C. Midwives' Day, the MABC is celebrating the value that midwives deliver across the province. Our campaign combines personal video stories from midwives across the province with a social media toolkit available to all our members. This year, we were inspired by the theme of the International Conference of Midwives: follow the data, invest in midwives.
In B.C., we have reached an all-time high in parents seeking midwifery care during pregnancy, birth and postpartum with midwives currently involved in a quarter of the province's pregnancies. Throughout a global pandemic, B.C. midwives have supported health care service delivery with extraordinary efforts. The data is clear: B.C. midwives provide stable and sustainable maternity care services that are a cornerstone of B.C.'s health care system. You and your work is critical and invaluable to our communities.
Social Media Toolkit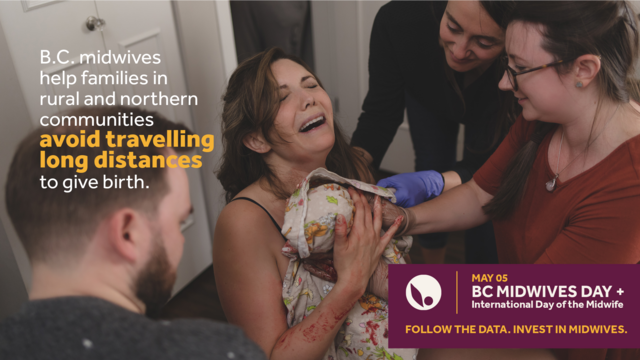 We have designed a social media toolkit for you to use on your own social media channels, along with the following hashtags:
#MidwivesDeliver #CelebratingMidwives #IDM2021 #BCMidwivesDay2021 #BCMidwives
Click here to access the IDM 2021 toolkit!
Midwives across the province
To celebrate midwifery on International Day of the Midwife, we are excited to launch 5 video profiles of midwives across the province. These 1 to 2 minute videos offer a peek into the lives of midwives, their passion for midwifery, their future vision for midwifery in B.C. and how their work as midwives improve healthcare for families in B.C. All five videos can be viewed here:
Jenifer Arnosti has been practicing as a midwife in Trail, with a busy solo practice that allows rural families 24/7 access to excellent maternity care. "I enjoy being busy and love being a midwife," she says. "Midwives improve healthcare daily for families in BC. And we take great pride in providing the best care possible that will extend far into their families' future."
Amanda Reid has been a practicing midwife for 12 years. She is currently located in Sechelt on the Sunshine Coast, after years in Vancouver and Ontario. "I became a midwife because I feel women should have choice and autonomy over their pregnancy and birth experience, and I enjoy helping people through this incredible and transformative experience in their lives."
Anne-Marie Cayer is a midwife practicing in the remote islands of Haida Gwaii, after ten years in the Okanagan. The transition from urban to rural midwifery has been a positive experience, with more time for motherhood and more complex cases that challenge her skills as a primary care provider. "What motivates me is my passion for the informed choice model of care and providing pregnant people with a strong, positive experience that empowers the rest of their parenting journey."
Hana Lang is a midwife who has been practicing in Hazelton, on the traditional territory of the Gitxsan Nation, after relocating from Toronto. "My dream for midwifery care in BC is that midwives continue to provide the best possible maternity care while feeling supported, and my hope is that everyone who wants access to a midwife in BC can get one." 
Manijeh Ghafourian is a Canadian-Iranian midwife who has had her own solo practice in Coquitlam for the last 10 years. Inspired by her mother who delivered all her siblings at home, Manijeh grew up believing it was her future to help other women deliver at home. "The relationships I form with my clients is so gratifying for me. Pregnancy, labour, birth and postpartum all create an excellent outcome for my clients. I know my work as a midwife improves healthcare for all families and I'm honoured to have been able to devote my life to it."
Midwifery in the news